The good old days of Bollywood are finally here. After suffering for two and a half years in the hands of Pahlaj Nihalani, finally, he was sacked to make way for lyricist and screenwriter Prasoon Joshi. During his tenure as Censor Board Chief, Pahlaj Nihalani has made life hell for movie makers relentlessly censoring left and right.
How his successor will turn out to be is still to be seen, but as of now producers and directors are heaving a sigh of relief. The following memes are apt to describe the current mood.
<!— ViralCockTail Box Ads —>
   Pahlaj was having all the fun like Gabbar in Sholay until now when finally he was sacked to give a happy ending.
   Pahlaj is lost…..he doesn't have a clue why his Laaj was lost.
   He was having all the fun cutting down a movie left and right at his own free will…Now he got to taste the same fun.
   Finally, I&B Ministry decided to play the deciding match with him.
   With Nihalani as chief of CBFC, the directors had no choice but to repeat the dialogue of Madhavan's character from the movie 3 Idiots, "Abba nahi maanenge yaar."
   Probably, the chap has no idea about why he was sacked.
   He found a new career in which he is bound to flourish as he has an edge at cutting.
   Pahlaj got sacked is the news to celebrate, but what if he starts producing movies again.
   Bollywood is going crazy ever since the news of sacking of CBFC chief got public.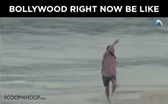 A dish called Pahlaj Nihalani is prepared when you mix 5 parts each of scissors, sanskar, regressive mindset and hypocrisy.
   The directors themselves were not able to recognise that it was the same scene that they had shot after the censor board passed it under Pahlaj Nihalani.
<!— ViralCockTail Box Ads —>
<!— Composite Start —>
<!— Composite End —>