All this started way back in January 2016 when there were rumors that Hrithik didn't want Kangana in Aashiqui 3. The word war that started between the two since then is not coming to end and people have now got bored and sick of it. 
There was silence for some time, but the discussions on the same started back again. Kangana's upcoming film Simran is about to release and so she is giving interviews all over. It is but natural that she is asked about this controversy and not holding back anything and is coming out bold as ever.
<!— ViralCockTail Box Ads —>
Now that people have enough of this controversy, which is not dying, the internet is full of memes on her interviews especially on her appearance last week at the show Aap Ki Adalat.
She said, "Tum aur tumhare pitaji ke paas to duniya bhar ka paisa hai" and look what internet memes are saying…
   This is exactly what I would say to my friend who is vacationing in some exotic location while I am at my work desk.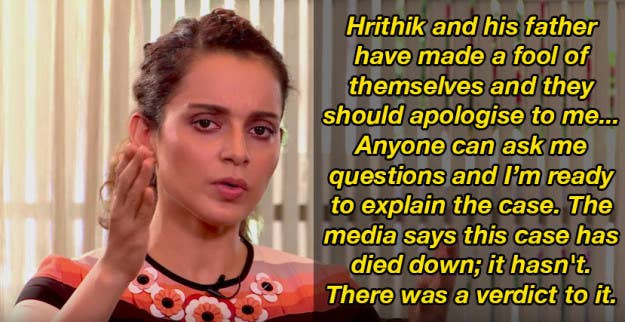 Taking Uber instead of local from Lower Parel to Malad.
me when my friend says chal lower parel se malad uber me jaate hai pic.twitter.com/vQk0uHr4Q0

— nirzary (@nirzary) September 7, 2017
   I use this line when my friends want me come with them to Goa for vacation.
me when my friend asks "Goa chalega kya?" pic.twitter.com/RxOrQ1xYID

— ㅤ ㅤ (@firkiii) September 7, 2017
   What!! Are you buying tickets to the chain smokers concert?
When friends buy tickets to the chainsmokers concert pic.twitter.com/19InFAqoRT

— That Goan Boy (@schmmuck) September 7, 2017
  Getting coffee from Starbucks…Bhai u can afford. "Tum aur tumhare pitaji ke paas to duniya bhar ka paisa hai"
Me when colleague calls coffee from starbucks pic.twitter.com/hcOwGmchan

— Godman Chikna (@Madan_Chikna) September 7, 2017
   This is the exact line that CBI must have told to Lalu's son.
CBI to lalu yadav and tejaswi yadav pic.twitter.com/8wnAX0OrU3

— AMIT (@AMIT_GUJJU) September 7, 2017
   You want a Bisleri bottle at this fine dining restaurant.
When someone orders a bisleri bottle in the restaurant. pic.twitter.com/VO3oRkB3PO

— Smoking Skills (@SmokingSkills_) September 7, 2017
   My mother slaps this line on me when I tell her not to cook as papa is ordering food from outside.
My mother when I tell her dad bought dinner so don't cook tonight pic.twitter.com/V4W5Sd3dba

— jumpy excaite (@DailyVelli) September 7, 2017
   This is my mother's reaction when I come back home in Uber Black.
My mother when I come home by UberBlack pic.twitter.com/dGiFIgkvwc

— Priyal (@priyal) September 7, 2017
   My friend reacts with this line when I tell him that we should have big gold flake today.
Me : Aaj chhoti Gold Flake ki jagah badi Gold flake piyenge

Friend : pic.twitter.com/g9cCxp9E4z

— Pakchikpak Raja Babu (@HaramiParindey) September 7, 2017
<!— ViralCockTail Box Ads —>
<!— Composite Start —>
<!— Composite End —>