The half of the population that is supposedly from Venus and the other half that is from Mars is always at loggerheads. There are few jokes at which only men can laugh and similarly there are things that only women can understand and laugh.  Let us see some jokes that make women laugh real hard.
   Why is gender revelation done through cakes, why not by smashing the piggy bank?
Like a gender reveal but instead of eating pink or blue cake you smash a piggy bank to reveal $1 if it's a boy or 78 cents if it's a girl

— Meg Monk-Sproul (@MegMonk) March 18, 2016
<!— ViralCockTail Box Ads —>
   How to explain to a seven-year-old that periods have nothing to do with weekends.
7yr old "Do women get their periods on weekends too?"
Me "Yes"
7yr old mutters to herself "Jesus Christ"

— kelly oxford (@kellyoxford) November 20, 2015
   This is indeed the perfect description of Bra…hahahahaha.
Damn boy, are you a bra? Because you make me uncomfortable but society has brainwashed me into thinking I need you

— Audrey Porne (@AudreyPorne) October 2, 2015
   Men often feel that women waste a lot of time and money on makeup…but believe me, it's not easy for them also to wear a lot of makeup on a regular basis.
when you break out after wearing a lot of makeup pic.twitter.com/xJHlLPb1qn

— Chloe Jade Nichols (@chloejnichols) May 10, 2016
   This black hair tie around my wrist provides me with the reassurance that no man can ever provide.
   Real women are different than what the glamour world tells. They have curves, they are plump and they love all fattening things.
Real women have curves!!! Real women have spirals!!! Real women are plump and covered in a creamy sauce wait nope thinkin of pasta

— Deirdre (@figgled) April 25, 2015
   The fairer sex is unnecessarily labelled as chatty….Men are no different.
Crazy how women have the stereotype of being chatty when 90% of dudes have 45 minute podcasts that no one listens to…

— Melanie Bracewell (@meladoodle) May 10, 2016
   What media can't believe about Trump, women can.
MEDIA: "We can't believe Trump would tweet something so awful!!!"

WOMEN OF THE INTERNET: *scrolls through mentions*
"We can"

— Kate Spencer (@katespencer) March 24, 2016
   Why do they bother what their husbands think of them?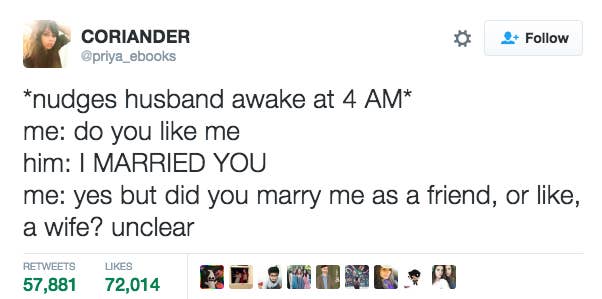 When late for the party and not finding anything suitable to wear, a 10-minute breakdown is a must.
when you can't find anything to wear so you have a 10 minute breakdown instead of getting ready pic.twitter.com/y8KIjEhubC

— CURVYLADYPROBS (@CurvyLadyProbs) June 12, 2016
   Behind every strong woman stands 5 more.
Behind every strong woman is 5 other strong women who proofread her email real quick when they had a second

— Gabby Noone (@twelveoclocke) April 25, 2016
   Using the woman card at ATM gives only 79.
Used my #womancard at the ATM today. Tried to withdrawal $100, but the machine gave me $79.

— brandi mathis (@brandimathis) April 27, 2016
   This is the best….you consider them weak, they object and you consider them equal, then they will give excuse of being weak.
Trying to get a pic with a girl that has the same 'side' as you is such a huge problem ?✋

— Lauren O'kane (@xlaurenokane) April 3, 2015
   Why do they make such expensive shoes that I can only touch and see and never try?
When you see a pair of shoes that you love but u can't afford them pic.twitter.com/3U7RFpPK4i

— Relatable Quotes (@RelatableQuote) June 25, 2016
   Men often make a woman scapegoat just to fulfil their own selfish motives.
Girl, are you the Bible? 'Cause men keep misinterpreting what you say to support their own selfish agendas.

— Glenn Loury 2.0 (@justabloodygame) April 22, 2015
   Both men and women think that they are ones who suffer the most.

   Guys just label that women are mystery…Do they ever want to know who they are?
guys: women are a mystery.
women: Here is what we-
guys: LITERALLY WHAT DO THEY WANT?
women: well for start-
guys: Guess we'll never know!

— Sophia Benoit (@1followernodad) December 4, 2015
<!— ViralCockTail Box Ads —>
<!— Composite Start —>
<!— Composite End —>