Apart from keeping the streets safe, the Mumbai City Police are also entertaining the Twitter community with their witty wordplay and tweets. It seems like they have some tough competition now from Bengaluru City Police (BCP) as the garden city of India is setting new objectives in the same category. Irrespective of who enters the race, it is fun time for social media users as the police entertain them with their remarkable sense of humour.
Check out few of the punny and clever memes and messages from the new contestant in the social media race – BCP.
<!— ViralCockTail Box Ads —>
Can you think of a faster way to get help when you are in danger? The BCP advice people to find this one their Facebook and press it in case of an emergency. Are they serious? Lol!
Here's a decent meme from them, which can be used for imparting the right information. Moreover, when trolls wanted to laugh on their post, the police had different plans.

The drug lords are also afraid of BCP.
And no doubt, the comments section was packed with witty views.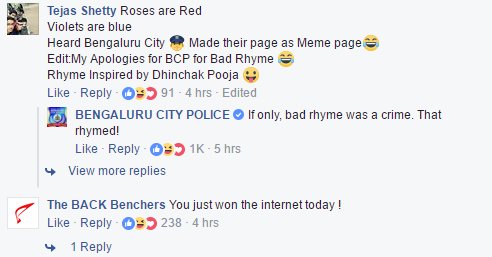 This one is not a joke or meme. They are straight down to business.
"Weed dont need no education" is neither the right lyrics nor the attitude we want in students.This is a non bailable offense. Please take our advice seriously and stay in class.

Posted by BENGALURU CITY POLICE on Tuesday, May 16, 2017
They even post fun activities once in awhile.
But, is that really fun? When you click on that link, here's what you get to see.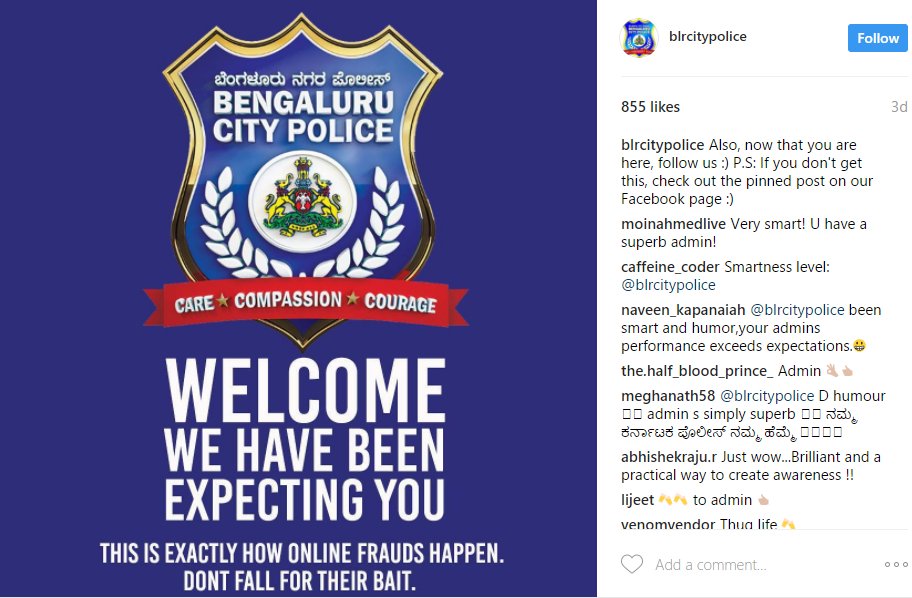 <!— ViralCockTail Box Ads —>
<!— Composite Start —>
<!— Composite End —>